Low Cost Internet USA Access Service Providers
---
How to access the Internet for low cost!
---
The following companies provide Internet service that is not free. The Low cost providers linked to below offer you several different plans and ways to pay. You need to check into each offer closely and choose your provider wisely.
---

Unlimited Internet Access - 1 Free e-mail account - NO Setup Fees! - All 56K modems - ISDN Available in Some Areas! - Excellent 24/7 Customer/Technical Support - 100% automatic start-up software - Access numbers across the country - Canadian and USA Access
CogniSurf™ dial-up Internet:
CogniSurf™ has dial-up Internet solutions to meet your specific needs. Through strategic alliances with industry leaders, we provide nationwide access numbers that allow you to connect to the Internet from virtually anywhere in the United States and Canada. As eBusiness demands increase, CogniSurf™ continuously provides a secure, reliable connection to the Internet with access to the latest information, email, newsgroups and corporate network resources to maximize your business' performance.
---
Unlimited Internet access as low as $12.95 a month. PeoplePC Online is a very fast, high quality online service. PeoplePC has twice as many dial-up numbers as AOL. Sign up now and get ONE Free Month!
---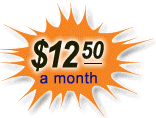 $12.50 - Monthly
Unlimited Access!!! 4000+ Access Numbers!!!
When you use free Internet access service providers, sometimes you cannot find a local access number, SurfBest has over 4000 local access numbers to choose from. Sometimes all you get is busy signals and all you want to do is surf! Sometimes free Internet is just not worth the hassle of going through the downloads again and again as the free Internet providers go through their changes. Try SurfBest, they want to keep everything simple. They only have one rate plan. It is a rock bottom $12.50 per month and you only pay for one month at a time! They do not lock you into a 3, 6 or 12-month contract.
Here is what you get for $12.50:
Unlimited Internet Access, 2 Free e-mail accounts, All 56K modems, User Friendly home page, Excellent 24/7 Customer/Technical Support, Comprehensive FAQs, Email, Live person, 100% automatic start-up software, 10MB of personal web hosting, Access numbers across the country - more than 4000 local access numbers, Fast account activation, No contracts – cancel anytime, Easy Sign up, Canadian Access at $12.50 (US)
A credit card is required to sign up for SurfBest. They accept Visa and MasterCard. Your first month is prorated at 42¢ per day and then you will be charged $12.50 just before next full month. On the 28th of each month you will be charged $12.50 for the following calendar month. Simple easy start surfing and stop dialing busy signals today! Click here!
---

650 Dial Up -- for fast and reliable dial-up Internet connection at an unbelievably low price.
650 Dial Up has dial up numbers all over the United States, so you'll have Internet access wherever you are.
---

Save-Net.Com - Discount Internet Service. Free POP Mail, 10MB Webspace, Newsgroups, and Web Mail. Unlimited dial-up accounts from $9.95
All 56k Digital accounts come with POP Mail, Web Mail, 10mb of storage space, a web page, Usenet News, Internet Relay Chat (IRC), File Transfer Protocol (FTP), On-line Gaming, etc. AOL users can still use Instant Messenger free of charge.
56k Digital connections are available Nationwide serving most locations with 4000 access numbers utilizing 4 Internet Backbones.
---
GTC Telecom
GTC is Offering Unlimited Internet Access for $9.95 a month
It is easy to get started and use the Internet, simple to download and install. Immediate access after registering. Supports variable modem speeds up to 56k to assist you in your connectivity. Reliable network and customer support. Local Internet access numbers are available nation wide!
---
Get NetZero Platinum today! Platinum gives you fast reliable internet access for $9.95/month. 1/2 the price of AOL!
NetZero Professional, a new service plan aimed at small business, professional and other members whose household usage exceeds 10 hours in a single calendar month. Beginning in October 2001, households and businesses that exceed the 10-hour threshold will have the option to pay $9.95 to allow them unlimited usage for the remainder of the calendar month. USA & Canada!
---

RAISING THE STANDARDS OF THE INTERNET
U.S. ISP is dedicated to providing a full range of internet hosting and connectivity products and services to both businesses and individuals. Through our services and products along with various partnerships with large internet companies, we offer our clients one of the most complete options on the internet today.
Nationwide access, competitive pricing, and more.
LIMITED TIME SPECIAL! Dial-up access for $12.95 per month
---
---
---